Subsurface Flow Module
Analyze Geophysical Phenomena Involving Fluid Flow with the Subsurface Flow Module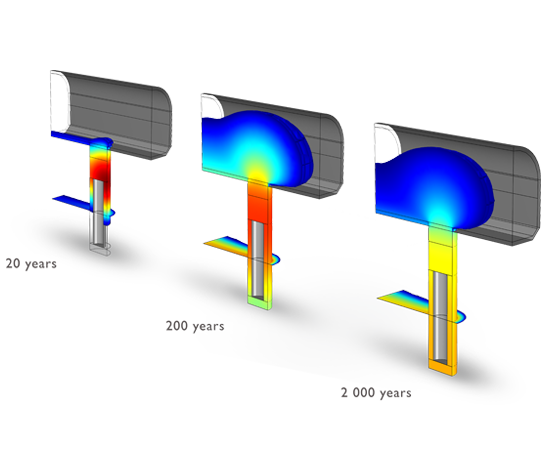 Escoamento Subsuperficial em Meios Porosos Saturados e com Saturação Variável
O Subsurface Flow Module é para engenheiros e cientistas que desejam simular o escoamento subterrâneo ou em outros meios porosos e também conectar esse escoamento a outros fenômenos, como poroelasticidade, transferência de calor, química e campos eletromagnéticos. Pode ser usado para modelar o escoamento em lençóis freáticos, a difusão de rejeitos e poluição através do solo, o escoamento de óleo e gás para poços e o adensamento do solo devido à extração de água de lençóis freáticos. O Subsurface Flow Module pode modelar o escoamento subsuperficial em canais, meios saturados e com saturação variável ou fraturas e acoplá-lo a simulações de transporte de solutos e calor, reações geoquímicas e poroelasticidade. Várias indústrias precisam lidar com desafios envolvendo geofísica e hidrologia. Engenheiros das áreas civil, mineração, petrolífera, agrícola, química, nuclear e ambiental frequentemente precisam levar em conta esses fenômenos uma vez que as indústrias em que trabalham afetam direta ou indiretamente (sob a perspectiva ambientaal) a Terra onde vivemos.
O Escoamento Subsuperficial Afeta Muitas Propriedades Geofísicas
O Subsurface Flow Module contém várias interfaces feitas sob medida que descrevem certas físicas para a modelagem de escoamentos e outros fenômenos em ambientes subterrâneos. Conhecidas como interfaces físicas, elas podem ser combinadas e acopladas diretamente a outras interfaces físicas dentro do Subsurface Flow Module ou com interfaces físicas dentro de qualquer um dos outros módulos na Linha de Produtos COMSOL. Isso inclui o acoplamento do comportamento poroelástico descrito pelo Subsurface Flow Module a aplicações de mecânica de sólidos não lineares para solos e rochas no Geomechanics Module.
Incorpore as Taxas de Reação Geoquímica e a Cinética
O COMSOL oferece a você a flexibilidade para inserir qualquer equação arbitrária nos campos de edição nas interfaces físicas do Subsurface Flow Module, o que pode ser útil para definir taxas de reação e cinéticas geoquímicas nas interfaces para transporte de materiais. Ainda, acoplando essas interfaces físicas ao Chemical Reaction Engineering Module é possível modelar muitas reações multiespécie, através de interfaces físicas fáceis de usar, para definir reações químicas que esse módulo contém. A integração desses dois produtos é bastante útil para modelar as muitas etapas das reações envolvidas na difusão de rejeitos nucleares a partir de seus depósitos por milhares de anos.
---
Imagens adicionais:
Interfaces Físicas para Simular o Escoamento Subsuperficial
O Subsurface Flow Module inclui várias interfaces físicas para a simulação do escoamento subsuperficial e de processos que dependem dele:
Fluxo em Meios Porosos
A funcionalidade principal do Subsurface Flow Module é sua capacidade de modelar escoamentos em meios porosos de saturação variável e totalmente saturados. As interfaces físicas são configuradas usando termos como pressão e altura de coluna de líquido, que são familiares ao engenheiro que modela a hidrologia. Em escoamento com saturação variável, as propriedades hidráulicas mudam à medida que os fluidos atravessam o meio, preenchendo alguns poros e drenando outros. A equação de Richards é empregada para modelar esse tipo de escoamento, e as formulações de van Genuchten e Brooks-Corey podem ser aplicadas para se levar em conta a retenção nos poros. Há campos de edição para a densidade, viscosidade dinâmica, fração líquida saturada e residual, condutividades hidráulicas e modelos de armazenamento.
O escoamento em meios porosos saturados pode ser modelado através da lei de Darcy ou da extensão de Brinkman à lei de Darcy, dependendo do tamanho dos poros envolvidos. Se o poro é tal que efeitos viscosos ao escoamento possam ser ignorados, então, a lei de Darcy pode ser usada e o escoamento é descrito exclusivamente pela variável de pressão. Se o tamanho dos poros for grande o bastante para que o fluido possa impor mudanças de momento através de efeitos de cisalhamento, então as equações de Brinkman devem ser aplicadas. Elas resolvem as mesmas variáveis que as equações de Navier-Stokes, mas incluem termos que levam em conta a porosidade dos meios através dos quais o fluido escoa.
A interface Fracture Flow também resolve a pressão em contornos internos (2D) dentro de uma matriz em 3D e é acoplada automaticamente às físicas que descrevem o escoamento em meios porosos na matriz circundante. Essa aproximação evita a necessidade da criação de malhas das fraturas reais e economiza os recursos computacionais que isso exigiria. Se um fluido por acaso escoar de um meio para o outro (e de volta) no mesmo modelo, todas as físicas de meios porosos são acopladas automaticamente às descrições de escoamento livre contidas no Subsurface Flow Module.
Fluxo em Canais Livres
Canais ou grandes poros conectados também são encontrados no subsolo e são melhor modelados usando as equações para escoamento. Isso também inclui poços e seus semelhantes em aplicações como extração de óleo. O Subsurface Flow Module suporta dois tipos de escoamento em canal livre: escoamento laminar e escoamento tipo creeping. A interface Laminar Flow resolve as equações de Navier-Stokes, ao passo que a interface Creeping Flow resolve uma versão modificada destas, negligenciando o termo inercial. Também conhecido como escoamento de Stokes, o escoamento tipo creeping é útil para escoamentos com números de Reynolds muito baixos.
Transporte de Material
O transporte de materiais pode ser acoplado ao escoamento subsuperficial e pode ocorrer por meio de convecção e difusão. Fenômenos, como a difusão, podem ser descritos por equações dependentes de variáveis como a concentração, ou serem descritas como anisotrópicas.
A interface Solute Transport adiciona dispersão e retardamento devido à sorção como um mecanismo de transporte. A dispersão considera o fato de que o transporte de solutos geralmente ocorre na direção do escoamento, e o tensor de dispersão é disponibilizado para levar isso em conta. A sorção descreve o processo quando espécies químicas absorvem e, então, dessorvem das partículas nos meios porosos a diferentes taxas. Seu efeito sobre a transferência de material é descrita usando isotermas de Langmuir ou de Freundlich, as quais são disponibilizadas na interface ou através do uso de uma expressão personalizada. A sorção também contribui para retardar o escoamento através do fator de retardamento. Um fator para volatilização, ou a dispersão de espécies químicas a partir do soluto para a fase gasosa imóvel, também é disponibilizado para o escoamento não saturado. Também pode-se inserir suas próprias equações para descrever quaisquer reações que ocorram durante o transporte de material. A interface Solute Transport pode ser acoplada a qualquer interface física apropriada do CFD Module para modelar escoamentos bifásicos e os solutos que eles transportam.
Transferência de Calor
A transmissão de calor ocorre através da condução, convecção e dispersão e deve levar em conta as diferentes condutividades que ocorrem entre as fases sólida e fluida. Em muitos casos, a fase sólida pode ser composta por materiais diferentes com diferentes condutividades e também pode haver uma série de diferentes fluidos. Regras de mistura são disponibilizadas para calcular as efetivas propriedades de transferência de calor na interface Heat Transfer in Porous Media. Essa também contém expressões para dispersão térmica devido à natureza dos meios porosos, bem como um termo para o aquecimento geotérmico ambiente. A dispersão é causada pelo caminho tortuoso do líquido no meio poroso, que não poderia ser descrito se somente o termo convectivo médio fosse levado em conta.
Poroelasticidade
Modelagens de compactação e subsidência são possíveis graças a uma interface física bastante poderosa para a poroelasticidade. A interface Poroelasticity combina uma formulação transiente da lei de Darcy a uma mecânica dos sólidos linear elástica da matriz de meios porosos. O acoplamento da poroelasticidade significa que o escoamento afeta a compressibilidade do meio poroso, ao passo que mudanças em deformações volumétricas, por sua vez, afetarão o transporte de momento, material e calor. Essa interface inclui uma expressão do tensor de tensões, em função do tensor de deformações e do coeficiente de Biot-Willis.
Recursos do Produto
Escoamento em meio poroso com saturação variável pelo uso das equações de Richards
Taxa de retenção em meio com saturação variável através das formulações de van Genucjten, Books e Corey
Escoamento em meio poroso saturado através da Lei de Darcy e equações de Brinkman
Escoamento em canal livre através das equações Navier-Stokes e formulações de Escoamento de Stokes
Transporte material por de difusão e convecção
Transporte de soluto por convecção, difusão e dispersão, considerando sorção e fatores de retardo
Termos para cinéticas das reações geoquímicas
Transferência de calor em sólidos e líquidos por condução e convecção
Transferência de calor através de meio poroso considerando diferentes condutividades entre fases, modelos de mistura para condutividades com as fases, convecção e difusão térmica
Termo para tratamento de aquecimento geotérmico
Comparação poroelástica e análise de subsidência
---
Áreas de Aplicação
Análise de estuário e zona ripário - fluxo, advecção e difusão
Armazenamento de gás, remediação e sequestro
Desaguamento mecânico e gravitacional de materiais porosos e fibrosos
Engenharia de petróleo
Análise de poluentes em sub-superfície e escoamentos em terrenos superficiais
Escoamentos de água de pouca profundidade e transporte de sedimento
Análise de lençol freático e intrusão salina nas águas subterrâneas
Análise Well head
Escoamento de águas subterrâneas
Pumping and Injecting from a Single Borehole
Prof. Martin Sauter, Ph.D Student Yulan Jin, and Assoc. Prof. Ekkehard Holzbecher Georg-August-University, Göttingen, Germany
Professor Dr. Martin Sauter leads a group at the University of Göttingen in research on hydrogeology. Cooperating with Hölscher Wasserbau, a leading German dewatering company, the group is studying düsensauginfiltration (DSI), which is a technique for lowering groundwater levels at mining or construction sites. Traditionally, dewatering involves ...
Multiphysics Simulations Help Track Underground Fluid Movements
A. Haas, H. Mahardika, M. Karaoulis, and A. Revil Colorado School of Mines, USA
Combining acoustic and electromagnetic analyses helps scientists to more efficiently measure and survey subterranean regions. Acoustic waves can travel long distances, but have limitations when it comes to providing details about formation properties, and cannot be used to identify the liquids flowing through them. Electromagnetic waves do not ...
Toda empresa possui uma necessidade de simulação diferente. Para avaliar completamente se o software COMSOL Multiphysics® atenderá ou não aos seus requisitos, entre em contato conosco. Ao falar com um de nossos representantes de vendas, você receberá recomendações personalizadas e exemplos totalmente documentados para ajudá-lo a aproveitar ao máximo sua avaliação e orientá-lo a escolher a melhor opção de licença para atender às suas necessidades.
Basta clicar no botão "Contate a COMSOL", preencher seus dados de contato, fazer qualquer comentário ou pergunta, e enviar. Você receberá uma resposta de um representante de vendas em um dia útil durante o horário comercial.
Próximo Passo:
Solicite uma Demonstração do Software