Pipe Flow Module
Model Transport Phenomena and Acoustics in Pipe Systems with the Pipe Flow Module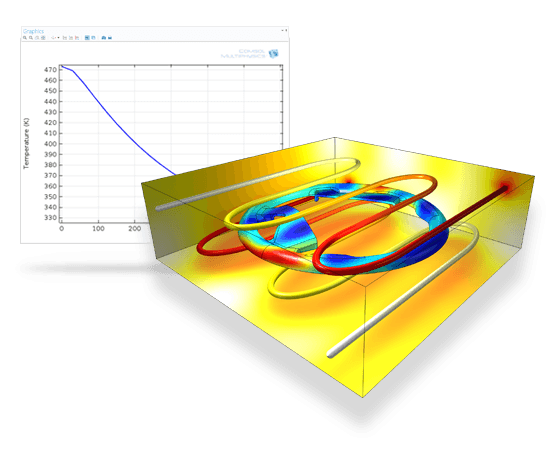 Considere Todas as Variáveis de Processo Usando Recursos Computacionais Reduzidos
O Módulo Pipe Flow é usado em simulações de escoamento de fluidos, transferência de calor e massa, transientes hidráulicos e acústica em tubulações e canais. Pode ser facilmente integrado a qualquer um dos outros módulos do COMSOL® para modelar os efeitos que a tubulação exerce sobre entidades maiores, como tubulações de resfriamento em blocos de motor ou canais de alimentação e de produtos conectados a vasos. Isso permite a conservação de recursos computacionais na modelagem de processos que consistem de redes de tubulação, enquanto ainda permite que se leve em conta uma descrição completa das variáveis de processo nestas redes. As simulações de escoamento em tubos calculam a velocidade, a pressão, as concentrações de material e as distribuições de temperatura ao longo de tubos e canais, ao mesmo tempo em que também podem simular a propagação de ondas acústicas e o efeito de golpe de aríete.
Ideal para Modelar Escoamentos de Fluidos Incompressíveis
O Pipe Flow Module é adequado para modelar o escoamento incompressível em tubos e canais cujos comprimentos são longos o bastante para que o escoamento possa ser considerado totalmente desenvolvido. Assumindo isso, são usados elementos de aresta, com uma componente de velocidade média tangencial ao longo das arestas, para evitar a geração de uma malha 3D completa nas seções transversais da tubulação. Isso significa que as variáveis modeladas são valores médios nas seções transversais da tubulação e variam somente ao longo do comprimento da mesma. Expressões integradas para fatores da fricção de Darcy abrangem todo o regime de escoamentos, inclusive escoamentos laminares e turbulentos, fluidos Newtonianos e não Newtonianos, diferentes formas ou geometrias de seções transversais e uma ampla gama de valores de rugosidades superficiais relativas. Estas podem variar de acordo com a posição na tubulação, ou estar diretamente relacionadas às variáveis que se está modelando.
A fricção não é a única contribuição para a perda de pressão nas redes de tubulações. O Pipe Flow Module também considera os efeitos de curvas, contrações, expansões, junções em T e válvulas que são calculados através de uma extensa biblioteca de coeficientes de perda padrão da indústria, ao mesmo tempo que bombas também são disponibilizadas como dispositivos para indução de fluxo. Assim como com qualquer interface física no COMSOL, pode-se manipular livremente as equações fundamentais, adicionar termos de fonte ou dissipador personalizados e expressar a propriedade física em função de qualquer variável do modelo. O COMSOL Multiphysics® também permite que você introduza dados para descrever certa propriedade de material ou parâmetro de processo, bem como sub-rotinas escritas em MATLAB®.
---
Imagens adicionais:
Um sistema de aquecimento envolve circulação de fluido em um tanque. O perfil de temperatura é modelado no sistema, bem como a queda de pressão.
A acústica do tubo é acoplada a um modelo de pressão acústica 3D em uma sonda de microfone.
Transientes de pressão em um tubo após fechar repentinamente uma válvula que causou um golpe de aríete.
A recuperação de calor do solo é um método eficiente para abastecer casas com calor, no qual coletores de calor existem no subsolo. Este modelo compara diferentes padrões enterrados no subsolo, usando propriedades térmicas típicas das camadas mais superficiais de um solo de jardim.
Aquecimento e resfriamento sob o piso é uma forma de aquecimento e resfriamento central que alcança o controle do clima para conforto térmico de um ambiente interno usando condução, convecção e radiação. Este sistema entrega aquecimento mais uniforme aos ambientes do que ventiladores ou radiadores de parede. Este app simula o balanço entre requisitos de temperatura e queda de pressão (custos operacionais) juntamente com os custos de construção e material (custos fixos) para diferentes materiais de piso e dimensões.
Acoplando o Escoamento em Tubulações a Outras Físicas e Aplicações
A física no Pipe Flow Module descreve a conservação de momento, energia e massa nos fluidos em um sistema de tubos ou canais. Esses sistemas podem ser facilmente acoplados a outros sistemas que não podem ser descritos usando os métodos aproximados do Pipe Flow Module, mas requerem uma descrição completa da física do sistema em 2D ou 3D. O Pipe Flow Module permite o mapeamento de dados a partir de bordas, para superfícies e volumes, e vice-versa. Isso significa que o escoamento ou a transferência de calor em uma tubulação podem ser acoplados ao que ocorre, por exemplo, em um vaso, com malha totalmente 3D, e resolvidos simultaneamente. Além disso, assim como em todos os módulos do COMSOL baseados em física, esse acoplamento pode ser feito entre diferentes formulações, de modo que um efeito, como a tensão térmica, pode ser facilmente calculado, como por exemplo no caso das tensões térmicas em um bloco de motor com canais de resfriamento.
O Pipe Flow Module possui interfaces físicas específicas para modelar transferências de calor e massa, e reações químicas. A tubulação pode ser embutida, por exemplo, em um domínio sólido 3D. No caso da transferência de calor, o módulo calcula o balanço de energia nos sistemas de tubos, incluindo as contribuições da interação com o domínio 3D, que são expressas como fontes ou dissipadores nas equações de tubulações. Isso é feito internamente de modo automático ativando-se a interação com material sólido em 2D ou 3D na interface gráfica do usuário (GUI), onde também pode-se escolher as correlações disponíveis para convecção forçada e natural para o meio circundante, materiais das tubulações e espessuras de suas paredes, inclusos no Pipe Flow Module. As interfaces físicas baseadas no transporte de materiais resolvem um balanço de massa no sistema de tubos e quando acopladas à descrição do escoamento em tubulações também consideram a difusão, convecção, dispersão e reações químicas.
Física para Análise de Golpe de Aríete e Acústica em Tubos
O Pipe Flow Module modela o escoamento compressível provocado por transientes hidráulicos rápidos, considerando as propriedades elásticas do fluido e das paredes. Esse efeito pode ocorrer devido ao rápido fechamento de uma válvula e é conhecido como golpe de aríete.
A propagação de ondas acústicas ao longo de tubos flexíveis também é um fator que contribui no projeto, no planejamento e na construção dessas redes. Quando combinado com o Acoustics Module, o Pipe Flow Module é capaz de realizar análises acústicas em ambos os domínios tempo e frequência. Mais uma vez, a física resolvida pelo Pipe Flow Module pode ser acoplada, sem problemas, a qualquer outra física da tubulação e a qualquer física do sistema ao redor dela.
Simulações de Escoamento em Tubulações para Vários Tipos de Indústrias
O Pipe Flow Module é adequado para modelar todos os tipos de redes de tubos e canais onde há escoamento, transferência de calor e massa e propagação de ondas acústicas. Isso inclui os sistemas de tubulação de indústrias químicas e de processos, usinas elétricas, refinarias, petróleo e água em tubulações, sistemas de ventilação e sistemas de resfriamento em motores e turbinas. Além disso, trata-se de uma útil contribuição à modelagem que pode-se realizar usando o COMSOL Multiphysics e seus módulos complementares. Isso inclui otimizar sistemas de resfriamento intrincados e integrados à turbinas, moldes, matrizes e trocadores de calor, planejar sistemas de ventilação em edifícios e projetar sistemas de aquecimento geotérmico.
Todas as marcas registradas listadas aqui são de propriedade de seus respectivos donos, e a COMSOL AB e suas subsidiárias e produtos não são associados, endossados, patrocinados ou apoiados pelos proprietários das marcas registradas. Para uma lista dos proprietários das marcas registradas, consulte http://www.comsol.com/tm.
Recursos do Produto
Escoamento laminar e turbulento em tubulações e rede de canais
Fator de atrito de Darcy para todos regime de escoamento, geometrias de seção transversal diferentes e para rugosidade superficial diferentes
Biblioteca extensa de coeficientes de perdas padrões da indústria para curvas, reduções, expansões, junção em T e válvulas
Coeficientes de fluxo indutores para bombas
Escoamento não-isotérmico acoplado para transferência de calor para todo os regimes de escoamento
Transferência de calor com escoamento em tubos e para ambiente externo, compreendendo condução através das paredes do tubo, sólidos e livre e convecção forçada em volume circundante
Fluidos Newtonianos e não-Newtonianos
Transporte de matéria por difusão, dispersão, convecção e reações químicas
Escoamento reativo que acopla transporte de matéria diretamente para escoamento em tubo
Efeito golpe de aríete causado pela rápida transiente hidráulico em redes de tubulações
Acústica em tubulação nos domínios de tempo e frequência *
* Requer o Acoustics Module.
---
Áreas de Aplicação
Simulações de processos químicos
Reações químicas em tubulações
Sistemas de resfriamentos
Sistemas geotérmicos
Trocadores de calor e flanges de resfriamentos
Transferência de calor em tubulações
Hidráulica
Lubrificação
Transferência de massa em tubulação
Escoamento não-isotérmico em tubulações
Sistemas de tubulações em refinaria de Petróleo
Acústica em tubulação
Escoamento em tubulação
Rede de tubulação em plantas químicas
Tubulações de água e oleodutos
Equações de "golpe de aríete"
---
Simulation Enables the Next Generation of Power Transformers and Shunt Reactors
L. Jovelli Siemens, Brazil
From power generation to its distribution to end users, power transformers and shunt reactors are used throughout the electrical grid for voltage conversion and to absorb reactive power. At Siemens Brazil in Jundiai, São Paulo, designers are using multiphysics simulation to verify that grid-integrated transformers and shunt reactors can handle ...
Next Step:
Request a Software
Demonstration
Every business and every simulation need is different. In order to fully evaluate whether or not the COMSOL Multiphysics® software will meet your requirements, you need to contact us. By talking to one of our sales representatives, you will get personalized recommendations and fully documented examples to help you get the most out of your evaluation and guide you to choose the best license option to suit your needs.
Just click on the "Contact COMSOL" button, fill in your contact details and any specific comments or questions, and submit. You will receive a response from a sales representative within one business day.