Nonlinear Structural Materials Module
Nonlinear Structural Materials Module
Expand Structural Analyses with Nonlinear Materials via the Nonlinear Structural Materials Module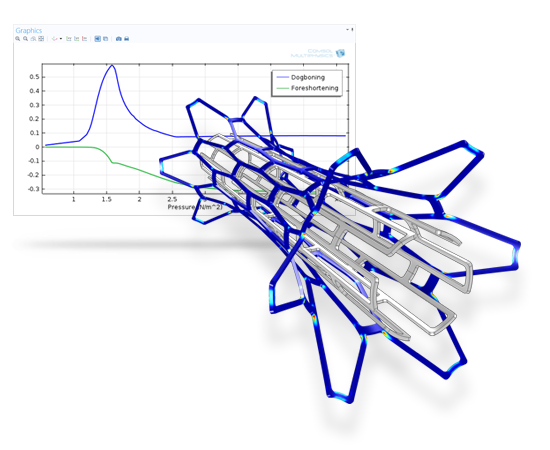 Adicione Modelos de Materiais Hiperelásticos, Elastoplásticos, Viscoplásticos e que Sofrem Fluência
O Nonlinear Structural Materials Module amplia os recursos mecânicos do Structural Mechanics Module e do MEMS Module com modelos de materiais não lineares, incluindo grandes deformações plásticas. Quando as tensões mecânicas em uma estrutura tornam-se muito altas, certas não linearidades das propriedades dos materiais obrigam a abandonar os modelos de materiais lineares. Essa situação também ocorre em algumas condições operacionais, como a temperatura elevada. O Nonlinear Structural Materials Module inclui modelos de materiais elastoplásticos, hiperelásticos, viscoplásticos e que sofrem fluência.
Modelos de materiais definidos pelo usuário com base em tensão ou deformação não variáveis, regras de escoamento e leis de fluência podem ser facilmente criados na interface de usuário utilizando as leis constitutivas integradas como ponto de partida. Pode-se combinar dois modelos de material e incluir efeitos multifísicos. Os modelos tutoriais que acompanham o módulo ilustram isso demonstrando combinações de fluência e plasticidade, fluência térmica e viscoplasticidade, além da plasticidade ortotrópica. O Nonlinear Structural Materials Module também possui aplicações importantes quando combinado com o Fatigue Module e o Multibody Dynamics Module.
Imagens adicionais:
Uma barra circular é submetida a um ensaio de tração uniaxial, resultando em grandes deformações. A barra sofre grande estricção e deformação plástica em sua seção transversal na região central.
Escoamento, campo de pressões e tensões de Von Mises em uma bomba peristáltica. A interação fluido-estrutura é causada pelo rolo comprimindo as paredes da tubulação. Grandes deformações, contatos e o comportamento hiperelástico do material da tubulação foram considerados. A simulação é cortesia da Nagi Elabbasi, Veryst Engineering.
---
| Hiperelástico | Plasticidade e Viscoplasticidade | Fluência |
| --- | --- | --- |
| Arruda-Boyce | Anand | Coble |
| Blatz-Ko | Encruamento cinemático | Deviatoric |
| Amortecimento | Encruamento Isotrópico | Garofalo (Seno Hiperbólico) |
| Gao | Plasticidade para grandes deformações | Nabarro-Herring |
| Gent | Orthotropic Hill Plasticity | Norton |
| Plasticidade para Grandes Deformações | Perfectly Plastic Hardening | Norton-Bailey |
| Mooney-Rivlin (dois, cinco e nove parâmetros) | Expansão Térmica | Potencial |
| Murnaghan | Critério de Falha de Tresca | Fluência definida pelo usuário |
| Neo-Hookean | Plasticidade definida pelo usuário | Volumétrica |
| Ogden | Critério de Falha de von Mises | Weertman |
| St Venant-Kirchhoff | Perzyna | |
| Storakers | Chaboche | |
| Expansão Térmica | Shima-Oyane | |
| Material Hiperelástico definido pelo usuário | Gurson | |
| Varga | Gurson-Tvergaard-Needleman | |
| Yeoh | Fleck-Kuhn-McMeeking | |
| | FKM-GTN | |
Nonlinear Structural Materials Module
Recursos do Produto
Elastoplasticidade
Hiperelasticidade
Viscoplasticidade
Creep
Fluência, hiper elasticidade e plasticidade definidas pelo usuário
Modelagem definida pelo usuário com invariantes de tensão ou deformação e elongações principais
Inchamento por higroscopia
Expansão térmica anisotrópica para materiais hiper elásticos
Modelos de material para ligas com memória de forma (SMA)
Multifísica com material de estrutura não-linear incluindo propriedades de materiais dependentes da temperatura
Pode ser usado juntamente com o Fatigue Module
Pode ser usado juntamente com o Multibody Dynamics Module
plasticidade ortotrópica de Hill
Next Step:
Request a Software
Demonstration
Every business and every simulation need is different. In order to fully evaluate whether or not the COMSOL Multiphysics® software will meet your requirements, you need to contact us. By talking to one of our sales representatives, you will get personalized recommendations and fully documented examples to help you get the most out of your evaluation and guide you to choose the best license option to suit your needs.
Just click on the "Contact COMSOL" button, fill in your contact details and any specific comments or questions, and submit. You will receive a response from a sales representative within one business day.