Molecular Flow Module
Software Para Modelar Escoamentos Gasosos à Baixa Pressão em Sistemas à Vácuo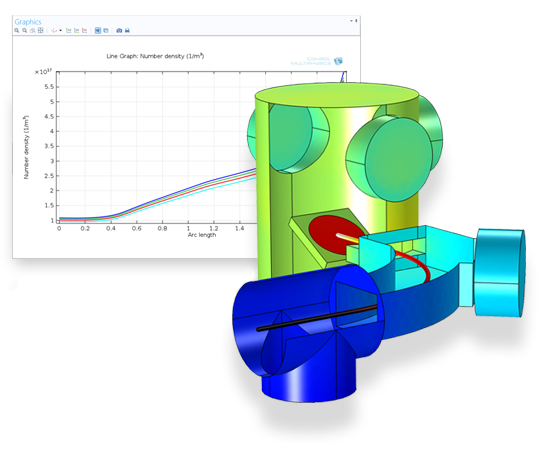 Modelagem Precisa de Escoamentos Gasosos de Baixa Pressão e Baixa Velocidade
O Molecular Flow Module foi desenvolvido para oferecer recursos de simulação antes indisponíveis para a modelagem precisa de escoamentos gasosos de baixa pressão e baixa velocidade em geometrias complexas. Ele é ideal para a simulação de sistemas a vácuo, inclusive os usados no processamento de semicondutores, aceleradores de partículas e espectrômetros de massa. Aplicações em canais pequenos (por exemplo, exploração de gás de xisto e escoamento em materiais nanoporosos) também podem ser abordadas.
O Molecular Flow Module usa um método de coeficiente angular rápido para simular escoamentos moleculares livres em regime permanente. Pode-se modelar escoamentos moleculares isotérmicos e não isotérmicos e calcular automaticamente a contribuição para o fluxo de calor por parte das moléculas de gás. O método da velocidade discreta também é incluído no módulo para a simulação de fluxos transicionais.
Dois Métodos para Modelar Escoamentos Moleculares Livres e Escoamentos Transicionais
O Molecular Flow Module oferece duas alternativas a esses métodos, permitindo resolver escoamentos de baixa velocidade e baixa pressão de maneira controlável e precisa. Duas interfaces físicas específicas, configuradas para receber entradas de modelo pela interface gráfica do usuário (GUI) a fim de especificar totalmente um conjunto de equações, são disponibilizadas:
---
Escoamentos Moleculares Livres
A interface Free Molecular Flow usa o método do coeficiente angular para modelar escoamentos com número de Knudsen maior que dez. Essa interface física evita resolver a física no volume das geometrias modeladas e só requer a criação de malha das superfícies. O espalhamento totalmente difuso (acomodação total) e a emissão são pressupostos em todas as superfícies na geometria, e o escoamento é calculado integrando o fluxo de entrada a uma superfície a partir de todas as outras em sua linha de visada. Isso significa que as variáveis dependentes só existem nas superfícies da geometria, e o processo de solução é muito mais rápido que com o método DSMC. Além disso, ele não está sujeito a desvios estatísticos. As densidades numéricas são reconstruídas usando um método incluído na interface Free Molecular Flow.
Escoamentos Transicionais
A interface Transitional Flow resolve a equação BGK de Boltzmann empregando uma forma modificada do método de Lattice Boltzmann/da velocidade discreta para resolver escoamentos transicionais. Diferente do método DSMC, as soluções não estão sujeitas a ruído estatístico. A reflexão difusa de moléculas de gás também é considerada em todas as superfícies, com moléculas advindas de todas as direções efetivamente absorvidas na superfície e posteriormente re-emitidas de acordo com a lei de Knudsen. Nessa interface, a geometria dos modelos é criada para discretizar o espaço físico, e uma quadratura da velocidade é escolhida, a qual proporciona um conjunto de variáveis dependentes que representam uma malha na dimensão da velocidade. Tanto a malha quanto a quadratura podem ser ajustadas independentemente para garantir que o problema seja resolvido tanto no espaço físico quanto na dimensão da velocidade.
Imagens adicionais:
Métodos Otimizados para Simulações Rápidas e Precisas
Gases à pressões baixas não podem ser modelados usando as ferramentas computacionais tradicionais para fluidodinâmica. Isso porque os efeitos cinéticos tornam-se importantes à medida que o caminho médio livre das moléculas gasosas torna-se comparável à escala de comprimento do escoamento. Os regimes de escoamento são categorizados quantitativamente pelo número de Knudsen (Kn), que representa a razão do caminho livre médio molecular para o tamanho da geometria de escoamento para gases:
| Tipo de escoamento | Número de Knudsen |
| --- | --- |
| Escoamento contínuo | Kn<0.01 |
| Slip flow | 0.01<Kn<0.1 |
| Escoamentos transicionais | 0.1<Kn<10 |
| Escoamento molecular livre | Kn>10 |
Ao passo que o Microfluidics Module é usado para modelar escoamentos de deslizamento e contínuos, o Molecular Flow Module é projetado para simular, com precisão, escoamentos nos regimes de escoamento molecular livre e transicional. Historicamente, os escoamentos nesse regime são modelados pelo método da simulação direta de Monte Carlo (DSMC). Ele computa a trajetória de grande número de partículas randomizadas através do sistema, mas introduz ruído estatístico ao processo de modelagem. Para escoamentos de baixa velocidade, como os encontrados em sistemas a vácuo, o ruído introduzido pelo DSMC torna as simulações impraticáveis. O COMSOL usa abordagens alternativas: empregar o método da velocidade discreta para escoamentos transicionais (usando uma quadratura da velocidade de Lattice Boltzmann) e o método do coeficiente angular para escoamentos moleculares.
Innovative Thermal Insulation Techniques Bring Vaccines to the Developing World
D. Gasperino, O. Yildirim Intellectual Ventures, WA, USA
When medical professionals transport vaccines, their cargo needs to be kept at a cool temperature. This limits their ability to travel to regions where there is not enough electricity. Intellectual Ventures' Global Good program designed a thermos-like container that is powered by ice and keeps vaccines cool for long periods of time. They used ...