LiveLink™ for SOLIDWORKS®
LiveLink™ for SOLIDWORKS®
Para Aumentar Sua Experiência de Projetos no SOLIDWORKS® com Simulações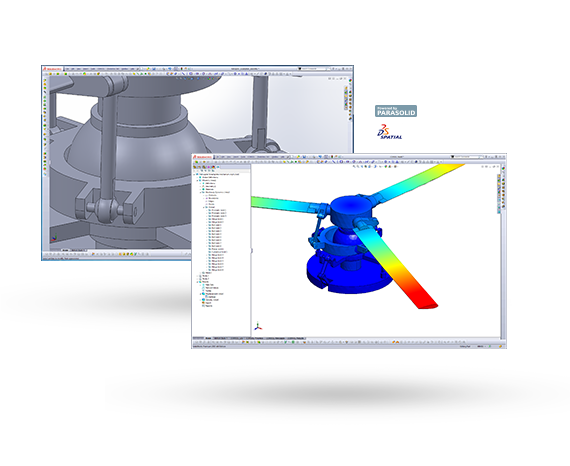 Interface Integrada para Simulações do COMSOL® e Projetos 3D do SOLIDWORKS®
O COMSOL Multiphysics® juntamente com o LiveLink™ for SOLIDWORKS® oferecem avançada conectividade, assim você pode integrar com eficiência as simulações ao seu fluxo de trabalho para projeto. O SOLIDWORKS® é uma solução CAD de primeira linha para projetos 3D e gerenciamento de dados de produtos. Quando usado com simulações multifísicas, ele fornece uma ferramenta poderosa para projeto, avaliação e otimização de produtos. Com o LiveLink™ for SOLIDWORKS®, você aproveita as funcionalidades do COMSOL Multiphysics para entender melhor como o seu projeto SOLIDWORKS® desempenha no ambiente de operação pretendido e avaliar precisamente o impacto de praticamente todos os efeitos físicos e suas interações.
A interface One Window integra o COMSOL Multiphysics na interface do SolidWorks
O LiveLink™ for SOLIDWORKS® inclui uma interface bidirecional entre o COMSOL Desktop® e o SOLIDWORKS®. Através dessa interface, você pode sincronizar o projeto CAD ao modelo COMSOL e, em outra direção, permite que sua simulação controle os parâmetros do projeto no arquivo do SolidWorks. Isso possibilita otimizar os projetos CAD por meio de simulações com varreduras paramétricas automatizadas. Com uma integração ainda maior, a interface One Window traz as janelas, ferramentas, ícones e itens de menu já conhecidos do COMSOL Multiphysics, e os disponibiliza para configurar e executar simulações de dentro da interface do SolidWorks.
---
Sincronize CAD 3D do SOLIDWORKS® e Modelos COMSOL Multiphysics®
O LiveLink™ for SOLIDWORKS® possibilita a sincronização entre a geometria do seu modelo COMSOL e o arquivo CAD correspondente do SolidWorks. Através da sincronização, as definições físicas e as condições de contorno permanecem associadas a seus respectivos domínios dos modelos, mesmo depois de alterações no projeto. Usando a interface One Window, a sincronização é automática quando uma alteração é detectada no projeto durante a alternância entre o ambiente de projeto do SolidWorks e o ambiente de simulação do COMSOL.
Os parâmetros de projeto do SolidWorks podem ser acessados iterativamente pelo COMSOL Multiphysics, facilitando estudos de otimização que incluem varreduras paramétricas para avaliar o efeito de propriedades como o diâmetro de um orifício, ou a espessura de um componente do projeto. O LiveLink™ for SOLIDWORKS® garante que as alterações no projeto sejam propagadas automaticamente, eliminando a necessidade de importar e exportar seus projetos cada vez que eles são atualizados.
Tratamento e Compartilhamento de Arquivos
O LiveLink™ for SOLIDWORKS® inclui funcionalidades para importar, exportar e até vincular arquivos CAD à modelos no COMSOL Multiphysics. Há diversas opções para salvar arquivos que facilitam o compartilhamento dos projetos em SolidWorks e dos modelos COMSOL associados com os seus colegas. O LiveLink™ for SOLIDWORKS® apresenta todas as funcionalidades do CAD Import Module, além de ter uma conectividade aprimorada, que inclui a interface One Window integrada no SolidWorks.
Os arquivos do CAD podem ser importados no formato SolidWorks (.sldprt, .sldasm) e nos formatos amplamente usados IGES, STEP, ACIS® e Parasolid®. Além disso, você pode importar os arquivos nativos dos sistemas CAD do Inventor® e PTC® Creo® Parametric™ CAD systems. A Importação opcional de arquivos do CATIA® V5 oferece suporte à importação de formatos de arquivos nativos desse sistema. As geometrias CAD importadas são convertidas em geometrias Parasolid® com o uso do LiveLink™ for SOLIDWORKS®, o que possibilita um conjunto de operações geométricas que preparam seus projetos para a simulação. As geometrias Parasolid podem ser ainda modificadas no COMSOL Multiphysics para adicionar domínios maiores que o do projeto CAD original, para simular os efeitos físicos externos, como um escoamento. Para compartilhar geometrias modificadas do COMSOL Multiphysics, basta exportá-la para os formatos ACIS ou Parasolid.
Simplifique Geometrias Para Simulação
As geometrias de modelo COMSOL criadas a partir de uma geometria CAD importada geralmente exigem certa manipulação para reduzir a complexidade da malha e aprimorar a eficiência da simulação no COMSOL Multiphysics. O LiveLink™ for SOLIDWORKS® oferece funcionalidades de manipulação de geometria também disponíveis no CAD Import Module. Entre os importantes recursos, está a capacidade de reparar e desfigurar automaticamente as geometrias.
Durante a importação de uma geometria do CAD, as anomalias existentes em um projeto são automaticamente detectadas e removidas. É feita ainda uma reparação para eliminar os espaços vazios, assim um sólido pode ser formado após a importação. Tolerâncias podem ser especificadas para que a importação do arquivo controle o processo de reparo da geometria. O processo funciona praticamente da mesma forma que a remoção de detalhes de um projeto importado que contém detalhes bastante pequenos, como filetes. O LiveLink™ for SOLIDWORKS® consegue detectar pequenos detalhes que produzirão uma malha densa e diminuirão a eficiência das simulações. Os detalhes podem ser removidos e reparados manualmente no SolidWorks ou no COMSOL.
As operações de geometria virtual estão disponíveis no COMSOL Multiphysics para oferecer outro método de impedir que detalhes do projeto criem regiões com malhas densas. Com essa funcionalidade, você cria uma geometria virtual para a criação de malhas, omitindo os detalhes geométricos selecionados do projeto CAD. Outra vantagem exclusiva é que a curvatura original do projeto é mantida, o que pode aprimorar a precisão da simulação em certas aplicações, como na análise estrutural de pressão de contato.
SolidWorks é uma marca comercial registrada da Dassault Systemes SolidWorks Corp. Todas as outras marcas comerciais pertencem a seus respectivos proprietários. Para ver uma relação dos proprietários dessas marcas comerciais, acesse http://www.comsol.com/tm. A COMSOL AB, suas subsidiárias e produtos não são afiliados a, endossados por e nem apoiados por quaisquer proprietários de tais marcas comerciais.
Numerical Simulation-Based Topology Optimization Leads to Better Cooling of Electronic Components in Toyota Hybrid Vehicles
Toyota Research Institute of North America, MI, USA
The Toyota Research Institute in Ann Arbor drives cutting-edge research in energy efficiency, mobility infrastructure, and safety. Here, Ercan Dede and his team are designing heat sinks (or cold plates), which are affixed to fragile electrical systems and other applications in Toyota's hybrid vehicles. Their simulations simulate the cold plate ...
Innovative Packaging Design for Electronics in Extreme Environments
Brice McPherson APEI, AR, USA
Power electronics appear in many everyday products, including smartphones, electronic car parts, and household objects. Such devices require controlled temperature ranges, switching frequencies, and voltage levels to operate smoothly and reliably. For harsh environments, such as the depths below the earth's surface where oil is drilled, there is ...
Modeling Scar Effects in Electrical Spinal Cord Stimulation
Kris Carlson, Dr. Jay Shils & Dr. Jeffrey Arle Lahey Clinic Burlington, MA
The Neuromodulation Group at Lahey Clinic conducted a study based upon spinal cord stimulation (SCS). SCS involves implanting a series of electrodes that apply electric potential to the spine, interfering with pain signaling circuitry. It's used to alleviate chronic back and leg pain. Although the treatment remains effective for years, the ...
Bike Frame Analyzer
The reliability of a bike frame can be estimated by analyzing the structural stress subjected to different load cases. This app leverages LiveLink™ for SOLIDWORKS® to interactively update the geometry while computing stress analyses. Using this app, you can easily test different configurations of a bike frame for different cases of dimensions, ...