Geomechanics Module
Expand Structural Analyses for Geophysical Applications with the Geomechanics Module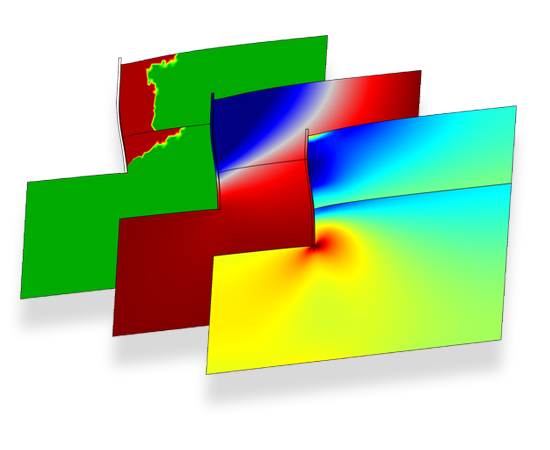 Simule Suas Aplicações Geotécnicas
Como complemento para o Structural Mechanics Module, o Geomechanics Module permite que você analise aplicações geotécnicas, como túneis, escavações, estabilidade de encostas e estruturas de retenção. Usando vários modelos de materiais geomecânicos não lineares, ele contém interfaces físicas sob medida para investigar deformações, plasticidade, fluência e falha de solos e rochas, bem como suas interações com estacas, suportes e outras estruturas fabricadas.
Uma Variedade de Modelos de Materiais Geomecânicos Para Maior Versatilidade
O Geomechanics Module vem com modelos padrão de materiais não lineares que descrevem a plasticidade do metal através dos critérios de von Mises e Tresca. No entanto, a essência do Geomechanics Module são os modelos de materiais não lineares para solos, concreto e rocha embutidos nas interfaces físicas que modelam a mecânica dos sólidos.
---
Imagens adicionais:
Aterros são usados para sustentar estruturas como uma estrada. São ilustradas as tensões nas colunas e o deslocamento da região adjacente (gráfico de superfície de contornos em segundo plano).
Força é transferida de uma viga de concreto para suas barras de reforço de aço durante a falha de tensão. A figura ilustra as tensões de von Mises no concreto e as tensões axiais nas barras.
Grande deformação plástica onde um critério de corte de tensão foi especificado.
| Solos | Rocha e Concreto |
| --- | --- |
| Cam-Clay | William-Warnke |
| Drucker-Prager | Bresler-Pister |
| Mohr-Coulomb | Ottosen |
| Matsuoka-Nakai | Hoek-Brown |
| Lade-Duncan | |
Além dos modelos de plasticidade predefinidos e integrados, você pode criar funções tensão-deformação definidas pelo usuário. Elas podem ser criadas diretamente, manipulando as interfaces físicas no Geomechanics Module ou através da versátil interface física para definição das equações encontrada no COMSOL Multiphysics. Sub-rotinas codificadas pelo usuário não são necessárias, visto que você pode simplesmente inserir equações constitutivas no campo de edição adequado dentro das interfaces. Essas equações podem ser expressões matemáticas das variáveis de campo, tensão e deformação, e valores derivados. Se seu modelo de material depende de outra variável computada pelo COMSOL, como o campo de temperatura ou pressão da água, você pode usar essa variável diretamente nas definições do material. Assim, os modelos de materiais fornecidos no Geomechanics Module também podem ser adaptados e expandidos a uma classe mais ampla de materiais.
O Geomechanics Module pode ser combinado facilmente a análises e variáveis descritivas de outros módulos da Linha de Produtos COMSOL. Isso inclui, em particular, interfaces físicas que descrevem o escoamento em meios porosos, poroelasticidade e transporte de solutos incluídas no Subsurface Flow Module.
Recursos do Produto
Modelos Bresler-Pister e Ottosen concrete
Modelos de solo de Drucker-Prager e Mohr-Coulomb
Modelo de rocha Hoek-Brown
Modelos de solo Matsuoka-Nakai e Lade-Duncan
Modelo de solo Cam-Clay modificado
Materiais de concreto, rocha e solo definidos pelo usuário
Modelo de concreto Willam-Warnke
Modelos de plasticidade de metais através do Critério de von Mises e Tresca
---
Áreas de Aplicação
Fluência em solos
Falha de concreto e materiais quebradiços
Material dúcteis e solos saturados
Aterramentos
Escavações
Fundações
Instalações de lixo nuclear
Estruturas de retenção e de reforços
Estradas
Lajes
Estabilidade de encostas
Túneis
Next Step:
Request a Software
Demonstration
Every business and every simulation need is different. In order to fully evaluate whether or not the COMSOL Multiphysics® software will meet your requirements, you need to contact us. By talking to one of our sales representatives, you will get personalized recommendations and fully documented examples to help you get the most out of your evaluation and guide you to choose the best license option to suit your needs.
Just click on the "Contact COMSOL" button, fill in your contact details and any specific comments or questions, and submit. You will receive a response from a sales representative within one business day.