File Import for CATIA® V5
File Import for CATIA® V5
Import CATIA® V5 Files into COMSOL Multiphysics® with File Import for CATIA® V5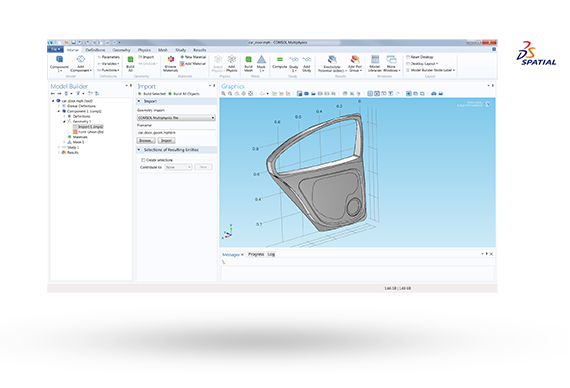 Una o projeto e a simulação CAD
Para dispor da mais alta qualidade na conversão de dados para seus arquivos CATIA® V5, use o complemento File Import for CATIA® V5, disponível para CAD Import Module, Design Module, LiveLink™ for AutoCAD®, LiveLink™ for Inventor®, LiveLink™ for PTC® Creo® Parametric™, LiveLink™ for PTC® Pro/ENGINEER®, LiveLink™ for Revit®, LiveLink™ for Solid Edge®, e LiveLink™ for SOLIDWORKS®
Para economizar tempo valioso durante a configuração da simulação, você pode usar a opção Create Selections (Criar seleções) para que a importação do arquivo configure automaticamente seleções com base na estrutura do arquivo .CATProduct. Isso permitirá que você atribua propriedades de materiais a domínios que derivam automaticamente seus nomes a partir dos nomes dos componentes no arquivo importado.
File Import for CATIA® V5
Recursos do Produto
importe arquivos de componentes e montagens do CATIA® V5 para análises com o COMSOL Multiphysics®
Crie seleções baseadas na estrutura de montagem para usar em operações de geometria subsequentes e para configuração de modelos
---
Formatos de Arquivo Suportados
| Formato do Arquivo | Extensão | Versão | Importa | Exporta |
| --- | --- | --- | --- | --- |
| CATIA® V5 | .CATPart, .CATProduct | R8-R25, 2016, 2017 | Sim | Não |
O complemento File Import for CATIA® V5 do CAD Import Module Module, Design Module e produtos LiveLink™ está disponível para Windows® 7, Windows® 8, Windows® 8.1 e Windows® 10.
Next Step:
Request a Software
Demonstration
Every business and every simulation need is different. In order to fully evaluate whether or not the COMSOL Multiphysics® software will meet your requirements, you need to contact us. By talking to one of our sales representatives, you will get personalized recommendations and fully documented examples to help you get the most out of your evaluation and guide you to choose the best license option to suit your needs.
Just click on the "Contact COMSOL" button, fill in your contact details and any specific comments or questions, and submit. You will receive a response from a sales representative within one business day.