ECAD Import Module
Import ECAD Files into COMSOL Multiphysics® with the ECAD Import Module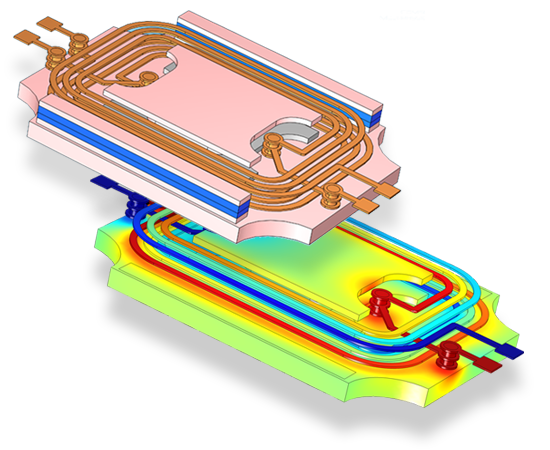 Simulando Componentes Eletrônicos
O desenvolvimento de dispositivos MEMs, circuitos integrados (ICs ou chips) e placas de circuito impresso (PCBs) requer cada vez mais precisão na previsão de características e do desempenho dos dispositivos, até mesmo antes de fabricar um protótipo. Componentes de tamanho cada vez menores demandam simulações que incorporem as interações de vários fenômenos físicos. Usando o ECAD Import Module, você pode importar seus arquivos ECAD para o COMSOL Multiphysics e converter os layouts 2D em uma geometria 3D adequada para simulação. Isso abre um mundo de simulações, incluindo, entre outras aplicações, o comportamento eletromagnético, térmico e estrutural desses componentes e dispositivos.
Importando Formatos ECAD Para o COMSOL Multiphysics
Os formatos para transferir dados ECAD contêm os layouts de cada camada que compõe um dispositivo, seja ele um chip ou uma placa de circuito impresso. O ECAD Import Module reconhecerá os formatos geométricos nesses layouts e construirá objetos de geometria plana que podem ser extrusados de acordo com as informações de empilhamento de camadas encontradas no arquivo ou fornecidas durante a importação. Para necessidades de simulação MEMS e IC, o ECAD Import Module suporta o formato GDSII. Para desenvolver placas de circuito impresso, os formatos de arquivo ODB++®, ODB++(X) e NETEX-G podem ser importados. O formato NETEX-G é o formato nativo de um programa de mesmo nome que pode ser usado para extrair os traços metálicos de uma rede específica a partir de arquivos de layout de Geber e de furação, que são usados amplamente para enviar projetos de placa de circuito impresso para fabricação.
---
Tratando Arquivos ECAD Importados
Dependendo do formato do arquivo, a ferramenta de importação oferece opções para configurar as células ou redes que deveriam ser usadas para construção da geometria. Você também pode excluir camadas, editar espessuras e elevações de camada, decidir como fios de ligação devem ser representados na geometria final e até mesmo ajustar os parâmetros para reconhecimento de arcos. Para uma configuração mais rápida do processo de importação, é possível carregar as informações de configuração das camadas a partir de um arquivo de texto. Para encurtar ainda mais o tempo gasto definindo simulações, você pode configurar a importação para criar seleções automaticamente para cada camada. Essas seleções são então disponibilizadas quando você está atribuindo definições físicas a domínios e contornos.
Os objetos em geometria 3D construídos a partir dos layouts ECAD podem ser adicionalmente modificados usando recursos à disposição no COMSOL Multiphysics. Quando combinada ao CAD Import Module ou a um dos produtos LiveLink™, a geometria 3D pode ser exportada para os formatos de arquivo ACIS® ou Parasolid® para uso em outros softwares.
Parasolid é uma marca registrada da Siemens Product Lifecycle Management Software Inc. ou de suas subsidiárias nos Estados Unidos e em outros países. ACIS é uma marca registrada da Spatial Corporation.

Apoio na implementação do formato ODB++® foi fornecido pela Mentor Graphics Corporation nos termos e condições do documento ODB++ Solutions Development Partnership General Term and Conditions (http://www.odb-sa.com/). ODB++ é uma marca da Mentor Graphics Corporation.
ECAD Import Module
Recursos do Produto
Importe projetos circuitos integrados (IC) e placas de circuito impresso (PCB) para análise no COMSOL Multiphysics
Desative a importação de camadas selecionadas
A espessura da camada pode ser lida do arquivo, ou especificada, para a extrusão automática das camadas durante a importação
Reconheça automaticamente arcos e linhas retas em leiautes GDS importados
Selecione células para importar dos arquivos GDS
Desative a importação de objetos de texto dos arquivos ODB++® ou ODB++(X)
Delete automaticamente arestas internas durante a importação
Crie seleções de camada para usar em operações geométricas subsequentes e na configuração do modelo
---
Formatos de Arquivos Suportados
| Formato do Arquivo | Extensão | Importa | Exporta |
| --- | --- | --- | --- |
| IPC-2581 | .cvg, .xml | Sim | Não |
| GDSII | .gds | Sim | Não |
| NETEX-G | .asc | Sim | Não |
| ODB++® | .zip, .tar, .tgz, .tar.gz | Sim | Não |
| ODB++(X) | .xml | Sim | Não |
Importing and Meshing a PCB Geometry from an ODB++ Archive
This tutorial model shows how to import data from an ODB++® archive to generate a geometry of a printed circuit board (PCB). Follow the instructions to learn how to remove small details from the geometry, create a mesh, and use automatically generated selections to define physics and mesh settings. The ODB++® file is provided through the ...
Next Step:
Request a Software
Demonstration
Every business and every simulation need is different. In order to fully evaluate whether or not the COMSOL Multiphysics® software will meet your requirements, you need to contact us. By talking to one of our sales representatives, you will get personalized recommendations and fully documented examples to help you get the most out of your evaluation and guide you to choose the best license option to suit your needs.
Just click on the "Contact COMSOL" button, fill in your contact details and any specific comments or questions, and submit. You will receive a response from a sales representative within one business day.