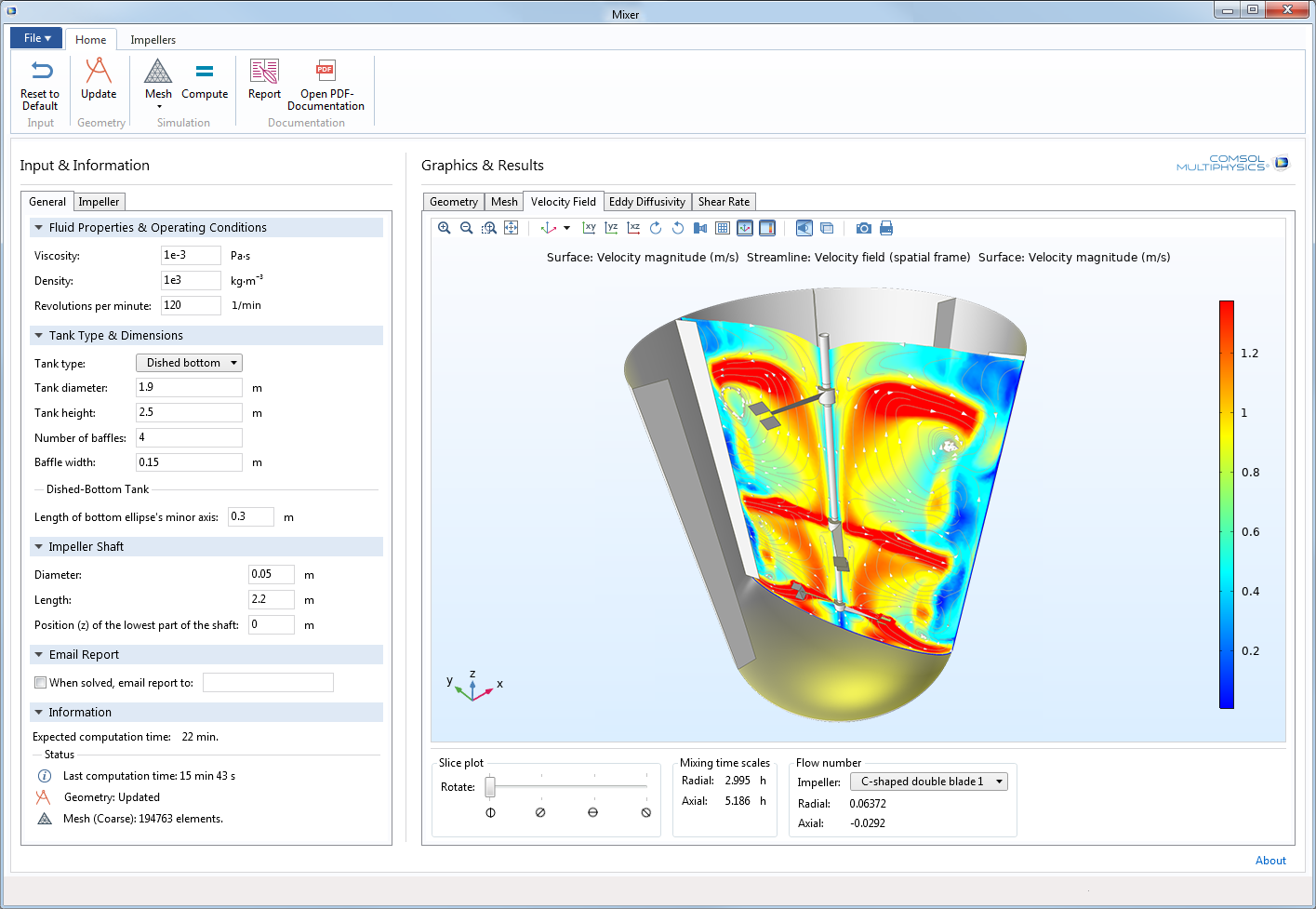 Create Standalone Applications with COMSOL Compiler™
Software for Creating Standalone Applications
With COMSOL Compiler™, you can compile applications created with the Application Builder into standalone applications for the Windows® and Linux® operating systems and macOS. Applications are compiled with a simple click in the Application Builder user interface. You can provide your own splash screen and desktop icon by modifying the options in the Executable settings window in the Application Builder. The splash screen will be displayed upon starting the compiled application.
About the COMSOL Compiler™ License
COMSOL Compiler™ is available as named single-user license, CPU-locked license, or floating network license options as an add-on to a COMSOL Multiphysics® license of the same type.
COMSOL Compiler™ can be used to compile applications that include functionality from any add-on products to COMSOL Multiphysics® with the following exceptions: Material Library, PTC® Pro/ENGINEER®, PTC® Creo® Parametric™, and File Import for CATIA® V5. In addition, there is no support in compiled applications for synchronization with bidirectional interfaces for CAD software in the following products: LiveLink™ for SOLIDWORKS®, LiveLink™ for Inventor®, LiveLink™ for Revit®, LiveLink™ for AutoCAD®, and LiveLink™ for Solid Edge®. However, the CAD import functionality available in these products is supported. Compiled applications do not support the batch processing or cluster computing options of a COMSOL Multiphysics® Floating Network License.
Próximo Passo:
Solicite uma Demonstração do Software

Toda empresa possui uma necessidade de simulação diferente. Para avaliar completamente se o software COMSOL Multiphysics® atenderá ou não aos seus requisitos, entre em contato conosco. Ao falar com um de nossos representantes de vendas, você receberá recomendações personalizadas e exemplos totalmente documentados para ajudá-lo a aproveitar ao máximo sua avaliação e orientá-lo a escolher a melhor opção de licença para atender às suas necessidades.
Basta clicar no botão "Contate a COMSOL", preencher seus dados de contato, fazer qualquer comentário ou pergunta, e enviar. Você receberá uma resposta de um representante de vendas em um dia útil durante o horário comercial.