"With the help of the model, we were able to cut our design time by 70%"
This was the sentiment shared by Michele Gosso of Centre Richerche Fiat in Italy. On the forefront of designing electric and hybrid vehicles in the small truck market, Fiat will soon be introducing this technology to their famous Fiat 500.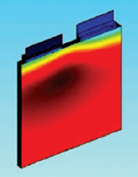 Surface heat of a lithium-ion battery pack.
Gosso and his colleague Antonio Fiumara work on the design and implementation of lithium-ion battery packs, and are written about in the latest version of COMSOL News. Here, they identify the cooling of these packs as being extremely important, while at the same time they are trying to keep the packs as small and light as possible.
Different from another story from COMSOL News and the IEEE Spectrum insert about cooling sensitive devices in the automotive industry, which I blogged about last week, Fiat uses convection air cooling to cool theirs. They could then study the distribution of temperature on surface of the many cells that go to make up a battery pack, particularly as there is great difficulty in embedding thermocouples to attain reliable results for this purpose.
I liked this story a lot because it depicts a smart solution that was easily designed using COMSOL. You can access the article here. I hope you too will find this story interesting (and keep a look-out for the Fiat 500!).
---