Protecting One Source of Energy from Another
These last couple of months I've been working together with some of our users to get the next COMSOL News together. I've just finished working with a great application and I thought I'd give you a sneak preview of it.
Highvoltage.dk are specialist consultants in the field of high voltage and lightning protection. While our interest in their work has concentrated on modeling aspects, they are also very competent in running practical laboratory experiments too.
The article in COMSOL News will be about protecting wind turbines from lightning strikes, which apparently happens quite a lot. While I won't reveal anything else at the moment, apart from the great picture they provided below, I can only encourage you to keep an eye out for COMSOL News that will be coming in the next couple of months.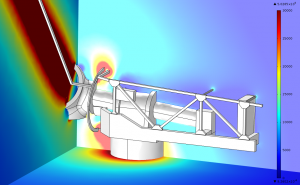 You can also read their research paper, which they presented at the latest COMSOL Conference here.
---