Introducing Panel Discussion at the COMSOL Conference Bangalore
Every year, we aim to make the COMSOL Conference a unique experience for our attendees, and we try to make each one better than before. This year, we are bringing a panel discussion to the COMSOL Conference Bangalore.
About the Panel Discussion
As usual, we have a line-up of exciting keynotes planned for the COMSOL Conference Bangalore. With speakers from industry, academic, and government backgrounds you can expect an interesting mix of presentations. Each of these speakers bring with them rich experience and insights into different application areas. With such varied speakers offering their unique viewpoints, we wanted to offer them a common platform to engage with one another — a panel discussion. The panel discussion will work as an interactive session where the experts can engage with each other and exchange ideas — and you get to be a part of it. Audience engagement is important to us, so like all our sessions, the panel discussion will conclude with Q&A. With a consistently growing demand for simulation in India, this event can be really insightful for you, no matter what your background is.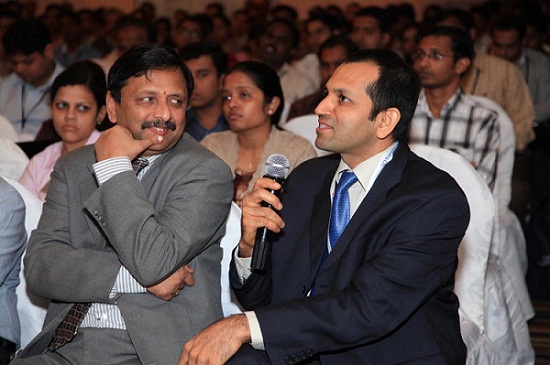 Productivity Gains with Multiphysics Simulation
Though our keynote speakers come from varied backgrounds and industries, they all have one thing in common: they have experienced the benefits of productivity gains through multiphysics simulation. Therefore, it's only appropriate that it will serve as the theme of the panel discussion. Each of the panelists will share their experiences with addressing multiphysics problems during the panel discussion. The panelists will give their unique perspectives on how modeling has been useful in areas such as understanding conceptual processes and product design.
The panel discussion, to be moderated by Bjorn Sjodin, VP of Product Management at COMSOL Inc., not only promises to be an exciting affair, but also a great learning experience for our attendees. If you missed my colleague Vineet's blog post introducing the four keynote talks, here is a quick re-cap of the COMSOL Conference 2013 Bangalore speaker line-up:
Amit Gupta, Indian Institute of Technology, Delhi
K.K. Rajan, Indira Gandhi Centre for Atomic Research
Suresh Arikapudi, Tata Motors
Chandramohan E, HCL Technologies
More on the COMSOL Conference Bangalore
---
---
|
© 2017 by COMSOL Inc. Todos diretos reservados