Highlights from Last Year's COMSOL Conference
If you want to get a sense of what the COMSOL Conference is all about before the event takes place this year, you can. We've gathered highlights from the COMSOL Conference 2012 so you can hear what last year's attendees said about the event, what the keynote speakers talked about, who won Best Paper and Best Poster, and more.
Hear Directly from Last Year's Attendees
During last year's poster session, we asked our attendees what brought them to the COMSOL Conference, and what their experience had been so far. Listen to what they had to say:
COMSOL Conference 2012 Keynote Talks
Each year, we select keynote speakers to share their own experiences using COMSOL Multiphysics in their designs. In 2012, we had great keynote speakers at each event location. For instance, in Boston we welcomed three speakers to teach us more about optimizing electronics cooling; share research on validation in MRI scanners; and speak about COMSOL and The Library of Babel.
Interested in hearing exactly what they said? Watch these videos:
User Presentations and Awards
Throughout the event, attendees meet with dozens of engineers, researchers, and scientists who are presenting how they are using multiphysics simulation in their work. Last year, we had an astonishing amount of presenters, both oral and poster. True to the COMSOL Conference format, we gave out Best Paper and Best Poster awards to presenters in different categories. To find out who took home the awards in Boston, Milan, and Bangalore last year, check out the 2012 COMSOL Conference Highlights page. In addition to the paper and poster winners, you can check out photos, videos, and blog posts from last year's multiphysics event.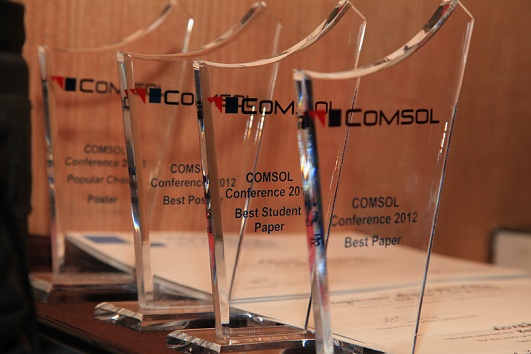 Be part of the memories that will be made in 2013 — register for this year's COMSOL Conference:
---
---
|
© 2017 by COMSOL Inc. Todos diretos reservados