Designing a Safer Lithium-Ion Battery
Last week in Boston, a lithium-ion battery caught fire in the new Boeing 787 Dreamliner, forcing them to ground all Dreamliner planes until further notice. This type of battery makes it possible to pack lots of power into a small package. What can be done to make it operate safely?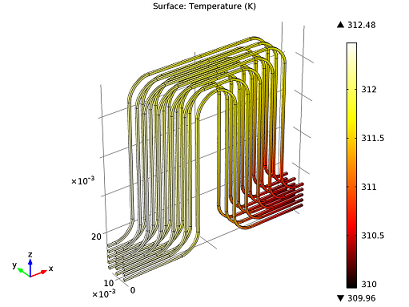 Liquid cooled lithium-ion battery pack: the temperature of the cooling fluid
Boeing Lithium-Ion Battery on Fire
A Boeing 787 Dreamliner made headlines after touching down in Boston when a lithium-ion battery overheated, leaked chemicals, and caught fire. According to an article in the Boston Globe, officials don't know exactly what caused the battery to overheat and go up in flames. One section of the article reads: "The problem could be in the basic design of the batteries, the units that charge them, or in an undetected manufacturing flaw, specialists said." Officials even claim to have built in a system to keep the battery from overheating, but clearly that did not work out.
COMSOL and Li-Ion Battery Design
This whole incident leads me to wonder what can be done differently in the design stages of the Li-ion battery. A couple of COMSOL resources on designing safer lithium-ion batteries come to mind.
We have a blog post on why lithium-ion batteries need to be cooled. Here, my colleague Phil investigates how these types of batteries get hot in the first place. In this blog post, he references a white paper titled "Modeling the Lithium-Ion Battery" COMSOL wrote together with Intertek, a company specializing in the modeling, testing, and quality assurance of lithium-ion batteries.
The white paper discusses the advantages of simulations in the design, selection, and operation of battery systems. It's evident that understanding how batteries work in isolation isn't going to cut it. Externalities also affect battery performance — and safety. By modeling the design using multiphysics, the performance can be analyzed based on different operating conditions. When you check out the white paper (it's free and a good read, so I'll assume that you will) you can see how Li-ion batteries can be modeled for cells, packs, and modules in 1D, 2D, and 3D depending on the purpose.
The punch-line is that by simulating lithium-ion batteries in addition to verifying and validating experimental results, a nearly unlimited number of designs for an extensive range of operating conditions can be analyzed. At a low cost, too.
---