Chemical Reaction Engineering Module
Chemical Reaction Engineering Module
Para Modelar Balanços de Massa e Energia, e Reações Químicas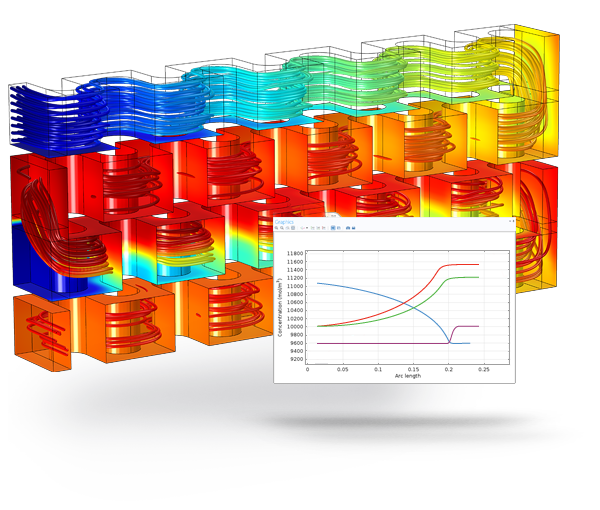 Um reator de placas onde reações químicas ocorrem por toda a parte e produtos químicos reagentes são introduzidos em dois pontos no reator.
Perfeito Para Todas as Indústrias Químicas e de Processos
Otimizar reatores químicos, equipamentos de filtragem, misturadores e outros processos fica mais fácil com o Chemical Reaction Engineering Module. Ele contém ferramentas para simular o transporte de espécies e a transferência de calor junto com cinéticas químicas arbitrárias em todos os tipos de ambiente – gases, escoamento, meios porosos, sobre superfícies e dentro de fases sólidas – ou combinações de todos esses. Isso o torna perfeito para todas as aplicações das indústrias químicas e de processos e até mesmo dentro da engenharia ambiental, onde a "unidade de processos" ou o "reator químico" é o ambiente.
Convecção e Difusão Com Cinéticas Químicas Arbitrárias
O Chemical Reaction Engineering Module contém interfaces intuitivas para você definir o transporte de materiais em soluções ou misturas diluídas e concentradas por convecção, difusão e migração iônica de um número arbitrário de espécies químicas. Elas se conectam facilmente a definições de cinéticas de reação reversíveis, irreversíveis e de equilíbrio que podem ser descritas pela equação de Arrhenius, ou qualquer lei de taxa arbitrária, onde os efeitos da concentração e da temperatura sobre a cinética podem ser incluídos. A interface para definir reações químicas é direta, visto que fórmulas químicas e equações são inseridas essencialmente como se você as escrevesse no papel. A COMSOL define as expressões de reação adequadas usando a lei de ação das massas, que você pode alterar ou sobrescrever com suas próprias expressões cinéticas. A estequiometria em suas fórmulas de reação é usada para definir automaticamente balanços de massa e energia, sejam eles homogêneos ou heterogêneos, ocorrendo em volumes ou em superfícies.
Outras imagens:
Níveis de concentração em um CSTR para a produção de ibuprofeno no tempo.
Usando um modelo de reator de fluxo constante, as concentrações de espécies químicas ao longo do comprimento de um reator catalítico de leito fixo são simuladas pressupondo condições heterogêneas e cinéticas especificadas pelo usuário.
Isosuperfícies de concentração em um reator monolítico 3D.
Fenômenos de Transporte Completos
Ferramentas para calcular propriedades termodinâmicas, inclusive oriundas de fontes externas, são incluídas no Chemical Reaction Engineering Module a fim de aumentar o acoplamento do transporte de calor e balanços de entalpia ao transporte de espécies e reações químicas. Interfaces do usuário para definir o transporte do momento também estão ao dispor para levar em conta a descrição total dos fenômenos de transporte do processo. Isso inclui escoamento laminar e escoamento em meios porosos descritos pela equação de Navier-Stokes, pela Lei de Darcy e pelas Equações de Brinkman. Acoplando o CFD Module ou o Heat Transfer Module à modelagem, também é possível incorporar escoamento turbulento, escoamento multifásico e escoamento não isotérmico, bem como a transferência de calor por radiação.
Essencial Para Otimizar Seus Processos de Reação Química
O Chemical Reaction Engineering Module pode ser usado por engenheiros e cientistas que trabalham nas indústrias química, de processos, de energia elétrica, farmacêutica, de polímeros e alimentícia, onde o transporte de espécies e a reação química constituem parte integrante dos processos com que trabalham. Ele oferece ferramentas para estudar todas as facetas dessas aplicações: desde estudos em tubo de ensaio em um laboratório à reestruturação de um reator químico no meio de uma usina. Suas cinéticas químicas podem ser simuladas intrinsecamente em ambientes controlados para descrevê-las com precisão usando recursos integrados para estimar parâmetros e compará-los a dados experimentais. A partir daí, o Chemical Reaction Engineering Module oferece vários tipos de reatores predefinidos para estudos mais avançados:
Reatores em batelada e semibatelada
Reatores-tanque de agitação contínua (CSTR)
Reatores de escoamento constante (Plug Flow)
Eles são todos fornecidos com definições adequadas para massas ou volumes constantes, bem como condições isotérmicas, não isotérmicas e adiabáticas. Perfeitos para incorporar sua cinética otimizada em um ambiente de processos, esses modelos simples permitem um melhor entendimento de seu sistema e permitem que você simule uma infinidade de diferentes condições operacionais. Com todo o conhecimento que você ganha dessa maneira, sua próxima etapa é otimizar o projeto de sua unidade e ajustar suas condições operacionais por meio de um modelo 2D axissimétrico ou modelo 3D. O recurso Generate Space-Dependent Model pode ser usado para incorporar totalmente balanços de massa e energia do seu sistema junto com o escoamento e a taxa de reação.
Chemical Reaction Engineering Module
Product Features
Mass transfer in dilute and concentrated solution and mixtures
Material transport through diffusion, convection and ionic transport
Laminar and porous media flow
Hagen-Poiseuille equation
Navier-Stokes Equations, Darcy's Law and the Brinkman Equations
Diffusion and boundary layers
Reacting flow
Mass transfer in concentrated solutions
Multicomponent mass transport and gas diffusion
Multicomponent diffusivity, thermal diffusion and the Soret effect
Fickian, Maxwell-Stefan, and Mixture-averaged transport
Surface diffusions and reactions
Adsorption, absorption and deposition of species at surfaces
Ionic migration through the Nernst-Planck Equations
Species transport and heat transfer in porous media
Bruggeman mass transport parameters
Arrhenius model
Unconditional number of chemical species in arbitrary definitions of chemical reaction kinetics
CHEMKIN® file import
Interface to CAPE-OPEN thermodynamics
---
Application Areas
Batch and high-pressure reactors
Bioreactors and fermenters
Biochemistry, biochemical engineering and food science
Chemical reactor design, sizing and optimization
Chromatography
Continuous reactors and CSTRs
Separators, scrubbers, crystallizers and leaching unit operations
Electrochemcial Engineering
Osmosis, electrophoresis and electroosmosis
Exhaust after-treatment and emission control
Filtration and sedimentation
Homogeneous and Heteregenous Catalysis
Selective catalytic reduction and SCR catalysts
Microfluidics and lab-on-chip devices
Monolithic reactors and catalytic converters
Multicomponent and membrane transport
Packed bed reactors
Pharmaceutical synthesis
Plug-flow reactor design and tubular reactors
Polymerization kinetics and manufacture
Pre-burners and internal combustion engines
Hydrogen Reformers
Semiconductor processing and CVD
---
Material Databases
| File Format | Extension | Read | Write |
| --- | --- | --- | --- |
| CHEMKIN | .dat, .txt, .inp3 | Sim | Não |
| CAPE-OPEN1 (direct connection) | n/a | n/a | n/a |
| LXCAT file2 | .lxcat, .txt | Sim | Não |
1 Requires Chemical Reaction Engineering Module
2 Requires Plasma Module
3 Any file format is allowed, these are the most common extensions

---
Data Resources:
Downloadable Mechanism, Thermodynamic and Transport Files
Modeling Chemical Applications
The application of modeling to chemical engineering is a cost-efficient way to explore new designs of systems and processes. COMSOL has been developing its capabilities with the chemical processes and engineering for over 10 years now. By using modeling, the engineer can achieve the understanding and intuition required for further innovation, and increase efficiency. A main feature of COMSOL is the symbolic and interpreted interfaces that allows you to define whatever you like, such as chemical and electrochemical reactions, or kinetic, thermodynamic, or transport expressions.
Chemical Reaction Engineering Module
Modeling the Electrochemistry of Blood Glucose Test Strips
Stephen Mackintosh
Lifescan Scotland
UK
Lifescan Scotland is a medical device company that designs and manufactures blood glucose monitoring kits for the global diabetes market. These involve the self-monitoring of blood glucose levels through specialized monitoring systems and test strips that comprise of a plastic substrate, two carbon-based electrodes, a thin dry reagent layer, and a ...
Modeling the Electrochemistry of Blood Glucose Test Strips
Modeling the Electrochemistry of Blood Glucose Test Strips
Stephen Mackintosh Lifescan Scotland UK
Lifescan Scotland is a medical device company that designs and manufactures blood glucose monitoring kits for the global diabetes market. These involve the self-monitoring of blood glucose levels through specialized monitoring systems and test strips that comprise of a plastic substrate, two carbon-based electrodes, a thin dry reagent layer, and a ...
Chemical Reaction Engineering Module
Porous Reactor with Injection Needle
This model treats the flow field and species distribution in an experimental reactor for studies of heterogeneous catalysis. The model exemplifies the coupling of free and porous media flow in fixed bed reactors. The reactor consists of a tubular structure with an injection tube that has its main axis perpendicular to the axis of the reactor. ...
Chemical Vapor Deposition of GaAs
Chemical vapor deposition (CVD) allows a thin film to be grown on a substrate through molecules and molecular fragments adsorbing and reacting on a surface. This example illustrates the modeling of such a CVD reactor where triethyl-gallium first decomposes, and the reaction products along with arsine (AsH3) adsorb and react on a substrate to form ...
Thermal Decomposition
In this tutorial model, couple heat and mass transport equations to laminar flow in order to model exothermic reactions in parallel plate reactor. It exemplifies how COMSOL Multiphysics allows you to systematically set up and solve increasingly sophisticated models using predefined physics interfaces.
Heat Transfer and Steam Reforming in a Reactor
In fuel cell power generators, a steam reformer unit typically produces the hydrogen needed for the cell stack. This example illustrates the modeling of a steam reformer. The reformation chemistry occurs in a porous catalytic bed where energy is supplied through heating tubes to drive the endothermal reaction system. The reactor is enclosed in ...
Surface Reactions in a Biosensor
A flow cell in a biosensor contains an array of micropillars. The curved side of the pillars are coated with an active material that allows for the selective adsorption of analyte species in the sample stream. The adsorbed species produce a signal that is dependent upon the local concentration at the pillar surfaces. This example investigates the ...
Separation Through Dialysis
Dialysis is frequently used membrane separation process. An important application is hemodialysis, where membranes are used as artificial kidneys for people suffering from renal failure. Other applications include the recovery of caustic colloidal hemicellulose during viscose manufacturing, and the removal of alcohol from beer. In the dialysis ...
Electrokinetic Valve
This model presents an example of pressure driven flow and electrophoresis in a 3D micro channel system. Researchers often use a device similar to the one in this model as an electrokinetic sample injector in biochips to obtain well-defined sample volumes of dissociated acids and salts and to transport these volumes. Focusing is obtained through ...
NOx Reduction in a Monolithic Reactor
This suite of examples illustrate the modeling of selective NO reduction, that occurs as flue gases pass through the channels of a monolithic reactor in the exhaust system of a motored vehicle. The simulations are aimed at finding the optimal dosing of NH3, the reactant that serves as reducing agent in the process. Three different analyses are ...
Dissociation in a Tubular Reactor
Tubular reactors are often used in continuous large-scale production, for example in the petroleum industry. One key design and optimization parameter is the conversion, or the amount of reactant that reacts to form the desired product. In order to achieve high conversion, process engineers optimize the reactor design: its length, width and ...
Carbon Deposition in Heterogeneous Catalysis
Carbon deposition onto the surface of solid catalysts is commonly observed in hydrocarbon processing. Carbon deposits can affect both the activity of catalysts as well as the flow of gas through a catalyst bed. This example investigates the thermal decomposition of methane into hydrogen and solid carbon. In a first model the isothermal process ...
Porous Reactor with Injection Needle
Chemical Vapor Deposition of GaAs
Thermal Decomposition
Heat Transfer and Steam Reforming in a Reactor
Surface Reactions in a Biosensor
Separation Through Dialysis
Electrokinetic Valve
NOx Reduction in a Monolithic Reactor
Dissociation in a Tubular Reactor
Carbon Deposition in Heterogeneous Catalysis